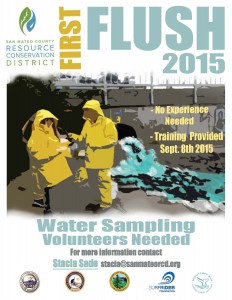 Volunteers needed for First Flush!
As winter approaches, it is time again for First Flush! The First Flush event, hosted by the Monterey Bay National Marine Sanctuary (MBNMS), monitors water quality at various locations within the MBNMS boundaries. The RCD is the local coordinator for the event and is seeking volunteers to collect samples at various outfalls from Montara to Half Moon Bay. Volunteers are essentially "on call" for the first big rain of the season in which the most concentrated runoff of pollutants enters the storm drains, and flows out into the ocean. Volunteers test a variety of parameters including metals, bacteria, and nutrients.
No experience is necessary! A volunteer training will be provided in early September. If you would like to volunteer or get more information about the event, please contact Stacia Meyer at the San Mateo County RCD with your name, email address and phone number.
Thank you for your interest in this important water monitoring program!