The San Mateo Resource Conservation District (RCD) seeks a qualified contractor to complete site investigations and designs for the San Pedro Creek Fish Passage Project at Adobe Bridge. The project will restore ancestral fish migration and improve habitat in San Pedro Creek. San Pedro Creek is an urban, coastal, perennial stream located in Pacifica, CA approximately 15 miles south of San Francisco. The goals of the project are to:
Restore unimpeded migration access through the Adobe crossing for steelhead trout to 5 miles in the San Pedro Creek watershed.
Improve approximately 1,500 linear feet of creek and riparian habitat.
Protect property by stabilizing banks, reducing erosion, and reducing flood impacts in lower San Pedro Creek.
The barrier to be remediated is an undersized 8′ x 8′ x 51′ concrete box culvert that presents a velocity and jump barrier to most fish at low flows and a velocity barrier at high flows, which greatly reduces access to the upper watershed's spawning and rearing habitat. The current phase of the project will develop designs to remediate this barrier along with instream and riparian habitat improvements along approximately 1,500 linear feet within the 4,500 linear feet project area.
Download the Request for Proposals package here.
A mandatory pre-proposal site tour will be held at the project site. Attendance is required for all firms submitting proposals.
When: Tuesday, June 22, 2021 at 10:00 a.m.
Where: The tour will start from Sanchez Adobe Park at 1000 Linda Mar Blvd, Pacifica, CA 94044
RSVP: Email amy@sanmateoRCD.org
Proposals are due July 6, 2021 by 5:00 p.m. (PST) to amy@sanmateoRCD.org.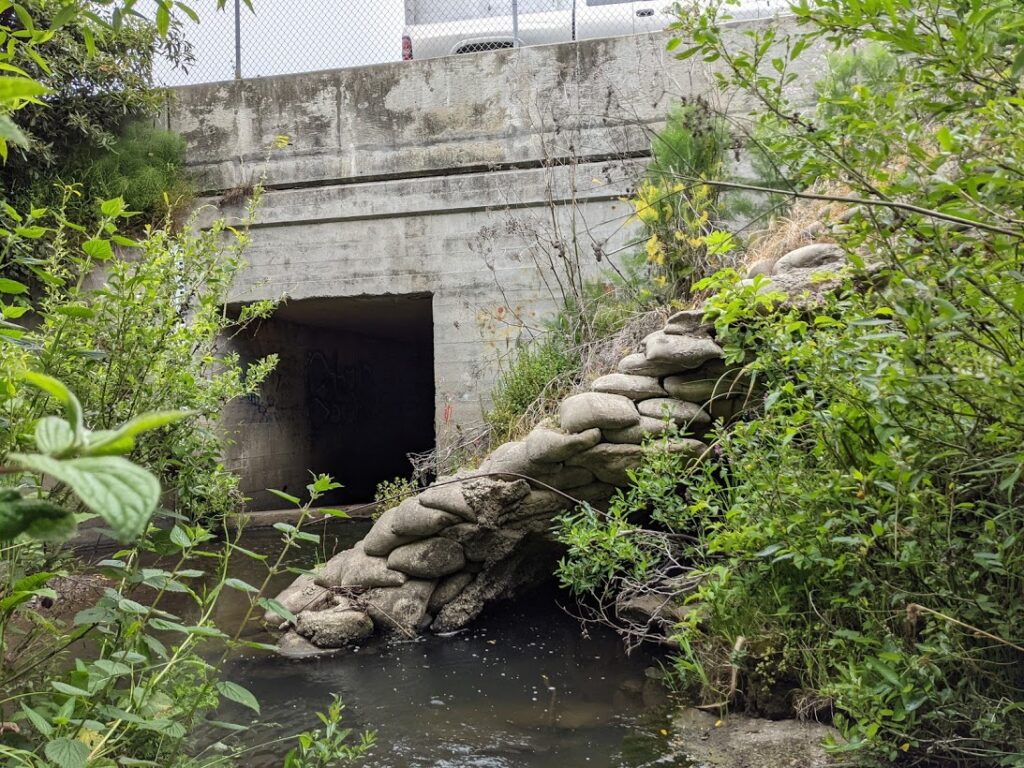 Adobe Drive road crossing on San Pedro Creek looking downstream (May 2021)